English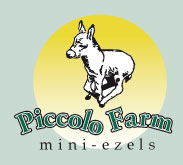 Miniature Donkeys
The miniature donkeys are rare in Europe. Originally they came from the Mediterranean region.
About seven miniature donkeys were imported into the United States in 1929. A few people started to breed them there and nowadays the miniature donkey is a very popular pet for the whole family. Big men are driving them in a lightweight cart. They are doing shows with them, jumping (on the lead) etc. Miniature donkeys are very intelligent and very affectionate. There is always a danger that unscrupulous breeders are just breeding them for the money, but most American breeders are very dedicated breeders with a lot of love and devotion for their donkeys.
The maximum height for a miniature donkey is 90 cm (36 inch) at the withers. Breeding can start at an age of three years (better not earlier as they are still teenagers then). Pregnancy period is a whole year!

History

As I felt in love with donkeys at a very early age, finally there was a possibility to keep them myself.
In 1989 I got my first jennet from friends as a present and it was a miniature donkey. Half a year later I was able to buy an unrelated jack 'Picobello' in England. Now donkeys are my passion.

My goal

Breeding excellent quality miniature donkeys is my goal and to promote them in Europe.

My donkey family

My donkey family consists of the following animals:
Echo Ridge Super Sam, jack. His colour is roan sorrel, which is very unusual. I bought him in Canada and he is very small (31 inch or 79 cm), stocky, quite a character and a good breeder. He moved to a new home in England in 2005.

The Elms King Crimson, my new breeding jack, import U.S.A. He is sorrel and has very good conformation. The Elms King Crimson is gelded in 2008 and found an excellent new home.

Pepita is my first donkey. She is the boss. She is 87 cm, maybe not the best quality, but she was always a very good mother and we love her a lot.

Picobello is now a gelding. He is the most wonderful little guy you can imagine. He is very fond of my grandchildren and he will always stay a member of the family. I still have a daughter from him and that is:

Piccolo Diva. She has a very sweet personality and on shows she is always in front. She had already a few wonderful babies. (Diva moved recently to a loving home in Belgium, together with her daughter Farah Diba)

Marlye's Sarah, After having 9 healthy beautiful foals, Sarah will be retired in 2013 at the age of 18 years.

Piccolo Aïda, the first daughter of Sarah, dark brown. Small and very sweet. She was born in 1999. She gave birth to a beautiful jennet foal, Piccolo Ivana, in 2004 and in 2005 she had a small brown jack foal Bolero. In 2007 she gave birth to a nice jennet foal Soraya. In 2008 a beautiful very dark foal Margarita was born and in 2010 a dark sorrel jennet Juliana. In 2012 she did it again: a darkbrown jennet foal Celica. 2014 was a year of jacks. Aïda gave birth to a very smart, very dark jackfoal, BarackO

Itsy Bitsy Burro Co. Lil Fire Ant was born in 1999 in Texas. She is a real eye catcher, very small, correct conformation and she has a beautiful bright sorrel colour. Her height is only 30". After two failures she gave birth to a healthy jennet foal in 2007, Felicita and in 2009 a very nice jack foal, Domingo. In 2011 again a jack foal Baio Rico. 2013 was not a very lucky year for Fire. Halfway her pregnancy she lost a dead foal in the clinic of the Veterinary University, because of a twisted umbicial cord.

Ass-pirin Acres Jolena, born in 2002 in Vermont, U.S.A. Jolena has a beautiful sorrel colour and she is very stocky with straight legs. She gave birth in 2006 to an excellent jack foal Piccante. The sire was Circle C Legend. Piccante is the new breeding jack.

In 2008 another jack foal was born Red Rocket. Again a very beautiful, stocky donkey, who will be a breeding jack at another place. In 2009 Jolena gave us a bright sorrel jennet foal, Verona. Jolena is one of my best jennies who gives fantastic foals. In 2011 Benito was born. 2013 was the year in which a beautiful jennet foal was born, Zarina. On 1-5-2015, the first birthday of granddaughter Nina, Jolena delivered a gorgeous jennet foal. She got the name Nina Ricci.

Itsy Bitsy Burro Co. Red China Doll is the last addition. She is born in 2005 in Texas and is as sweet as honey. She is very affectionate and wants always all the attention.

In june 2010 Dolly gave birth to her first foal, Golden Lexus. Small, sweet and beautiful. In 2012 a small jack foal was born, Calvin Klein. In 2014 again a jackfoal from Dolly. His name is Poquito.

On 16-6-2016 Dolly gave birth to a very nice jackfoal. We named him Don Carlos.

Piccolo Felicita is staying with us. She is a well worth addition and very sweet.

Piccolo Piccante a handsome, very well built donkey is my current breeding jack. He became champion in 2009.

All my donkeys are registered in America as well as in the English studbook for miniatures.

As my goal is producing good quality foals and I want my jennets staying healthy for many, many years, I will not have more than 2 to 3 foals (at the most) per year. So, when you will be interested in these wonderful creatures, you may contact me. They are not cheap, but well worth.

News

To my surprise I was awarded as a honorary member of the VNE (Dutch Donkey Society) in march 2012. This is a great honour for me of which I am very proud.